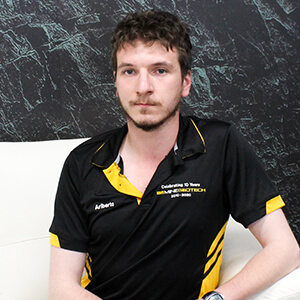 Bsc (Geological Sciences and Technologies) (Engineering Geology Honours)
MSc (Mining Geology)
Ariberto has more than 4 years of practical mining and civil engineering experience having worked on projects across Italy, the United Kingdom and Australia.
In Italy, Ariberto performed Engineering Geology duties for shallow-level foundations and the stability of anthropic caves, while in the UK he worked as a Mine Geologist in Kaolin mines focusing on improving grade control practices. Most recently, Ariberto has worked in Australia as an Engineering Geologist, primarily in underground mines focusing on day-to-day geotechnical activities.
Since joining MineGeoTech in 2019, Ariberto has spent the majority of his time gaining experience on-site. He has spent the last 18 months at EMR's Golden Grove operation, undertaking the role of a site based geotechnical engineer. In addition, Ariberto has completed other project work including the preliminary geotechnical assessment of Technology Metals Australia Ltd (TMT) Gabanintha Vanadium project (open pit).
Ariberto's specialities include:
Geotechnical and geological mapping
Geotechnical, geological and structural logging
Rock and soil testing
Inspection of development and stopes
Ground support scheme selection
Geotechnical review of stope and development design
Planning of Hydraulic Backfill operations and day-to-day management of a small backfill team