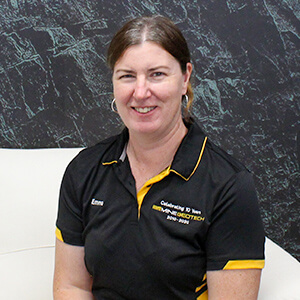 BEng (Chemical Engineering with Minerals Engineering) (Hons)
MSc (Minerals Engineering)
GDip (Mining)
First Class Mine Managers Certificate of Competency (No 932, 18/12/2008)
MAusIMM
Emma graduated from the University of Birmingham in 1993 with an Honours Degree in Chemical Engineering with Minerals Engineering and then completed a Master's Degree in Minerals Engineering at Camborne School of Mines in 1995. Having gained experience as a plant metallurgist she then broadened her knowledge, graduating with a Graduate Diploma in Mining from the WA School of Mines in 2006. Emma is currently studying a Master of Information Management.
Emma has over 20 years of experience in the mining industry in the fields of metallurgy and mining engineering. She has production experience in underground and open pit operations and knowledge in evaluating deposits around the world including Australia, Cameroon, Finland and Kazakhstan.
As part of the MGT team, Emma is committed to project evaluation through sustained value delivery. Each project focuses on safe, financially profitable, technically appropriate and environmentally and socially responsible extraction. Advances in innovation and technology are utilised as opportunities to increase levels of efficiency, reduce costs, improve safety and further mitigate environmental impacts to create value for our clients.
Emma has the technical knowledge base to:
Conduct open pit optimisations, final/staged pit designs and schedules for Scoping to Pre-Feasibility Studies. Including waste dump design, abandonment bund placement, equipment selection and mining cost buildups.
Conduct underground designs and scheduling options for Scoping Studies.
Develop open pit and underground LOM plans that enable the safe achievement of production targets.
Develop Ore Reserves and participate in Ore Reserve reviews.
Software competency includes Datamine, Surpac, Whittle, NPV Scheduler, Mine 2-4D, Minemax Planner, Talpac, Deswik CAD, Deswik Scheduler and Microsoft Office Applications.