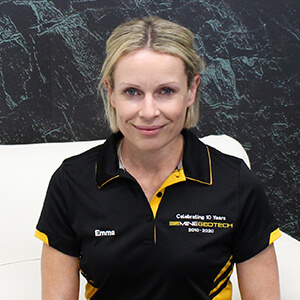 BEng (Geological)
MEngSc (Mining Geomechanics)
MAusIMM(CP)
Emma Jones has 17 years of experience in geotechnical engineering.
Emma spent 7 years in the Kalgoorlie region during which she gained experience in both open pit and underground mining, with exposure to several different mining methods and geotechnical environments.
Emma has also held senior, principal and manager roles for large mining companies that allowed her to work intimately with Open Pit and Underground operations located not only in Australia but in Papua New Guinea, Zambia and Saudi Arabia.
In 2012, Emma was a finalist in the Chamber of Minerals & Energy Women in Resources Awards for Outstanding Young Professional Women. In 2013, she was a finalist in the Western Australia Telstra Business Awards in the Young Business Women category and in the Private and Corporate Sector Award category.
Since joining the MGT projects group in 2015, Emma has worked on a range of small and large projects in Australia and internationally, covering multiple commodities.
Her specialties include:
Geotechnical Studies from Scoping through to Implementation for both Open Pit and Underground
Ground support scheme design, including cost analysis and optimisation
Rock mass response to excavation assessments, including rock fall investigations and response plans
Underground mining and development sequencing
Due Diligence reviews
Audits (Hi Impact and in house) and third-party review of geotechnical studies
GCMP and procedural development
Vertical development and placement design
Mentoring and training of geotechnical engineers