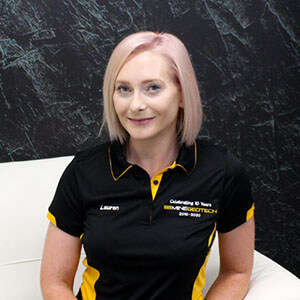 BSc (Earth and Environmental Science) (Hons), MSc (Exploration Geophysics) 
Lauren graduated from the University of Leeds in 2011 with a master's degree In Exploration Geophysics. She has more than 7 years of experience working as a seismic exploration geophysicist working across the UK, the Middle East, and Australasia.
Her career started in the UK, working as a seismic interpreter in the multi-client department of CGG. She gained experience in working with 2D and 3D offshore seismic datasets, as well as experience working with gravity and magnetic datasets. Lauren moved to Australia in 2015 and joined Paradigm Geophysical as a Technical Consultant. This position allowed her to grow her knowledge of a wide range of geophysical workflows.
Lauren joined MineGeoTech in 2021 as a geophysicist processing Acoustic Televiewer and Optical Televiewer data, as well as structurally picking LiDAR data sets. Since joining, she has gained experience in the interpretation of geotechnical data using stereographic projection.
Technical capabilities include:
Acoustic Televiewer and Optical Televiewer data processing
Interpretation of geotechnical data through Dips software
Structural picking of LiDAR data
Her software skills include:
RocScience Dips
WellCAD
CloudCompare
Gem4D
AdamTech 3DM Analyst
Ikon Science RokDoc
Paradigm Geophysical
GeoTeric
MS Office