Glen Donaldson
Senior Mining Engineer
Glen obtained a Diploma of Mine and Engineering Surveying in 1996. He then worked as a surveyor for the next 11 years focusing on Mine Surveying roles and obtained WA Grade 1 Authorisation as Mine Surveyor in 1998. Leveraging off his mine surveying experience, Glen transitioned into Mine Engineering completing a Graduate Diploma in Mining from Federation University.
He has held various mine engineering roles in both underground and surface mining, including consulting, operations and contractor experience. He has experience working with a variety of commodities including gold, base metals, coal, bauxite and mineral sands.
Joining the MGT team 6 months ago, Glen is committed to project evaluation through sustained value delivery. Each project focuses on safe, financially profitable, technically appropriate and environmentally and socially responsible extraction. Advances in innovation and technology are utilised as opportunities to increase levels of efficiency, reduce costs, improve safety and further mitigate environmental impacts to create value for our clients.
What sparked your interest in this field?
Transitioned to mine planning from mine surveying. Seemed like an interesting new challenge to take on.
Share a memorable project story.
Best job mining job I've had was as the Senior Mine Planning Engineer for St Barbara at King of the Hills mine. I started when the mine was struggling for new ideas and people. First came the new people from a wide range of backgrounds and experience, then came the new ideas which were just as diverse at times. No two days were ever the same, and the challenges, teamwork and fun were constant. We managed to achieve consistent production and extend mine life by about 18 months.
What is a quote that has stuck with you?
"If it were easy, everyone would be doing it."
What advice would you give to aspiring mining engineers?
You never stop learning and adapting in 21st-century mining. Don't be afraid to do so.
Who in your Team would you want to give a shout-out to?
Nicole. Very talented, dedicated and passionate Mining Engineer. Always takes that bit longer to share her knowledge and push for excellence. Pretty sure she doesn't sleep.
Share a picture of you 'in the field'.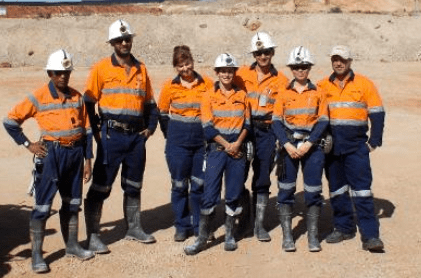 In the Field: St. Barbara King of the Hills, Tech Services 'A' Panel 2015 (I'm the tall one).