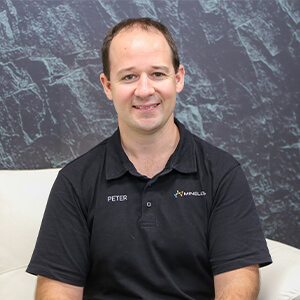 BEng (Geological) (Hons)
MEngSc (Mining Geomechanics)
MAusIMM
Peter is a Geotechnical Engineer with more than 16 years of experience in the mining industry. Peter's experience has covered many years as a site-based and consulting geotechnical engineer. He has a broad range of experience covering the design, implementation and verification of geotechnical engineering with a particular interest in raise bores, shafts and other vertical excavations.
Peter's shaft work has covered the design and sinking of large diameter shafts using conventional drill and blast from 6.0m to 11.0m as well as the design and construction of multiple raise bores from 1.8m up to 6.0m in diameter.
More broadly his technical capabilities include:
Underground ground support design and implementation
Design of monitoring systems focused on solving geotechnical issues
Fibrecrete/shotcrete management – full life cycle processes covering cost and quality management
Pre-Feasibility and Feasibility studies of underground and open-pit mines
Design and construction of large underground excavations (crushers, conveyor transfer stations)
Vertical excavations – Shaft sinking, raise boring, underground ore handling systems and pre-support
Audit preparation, including internal and external audits such as DMP HIF Audits
Rockfall investigation and response plans