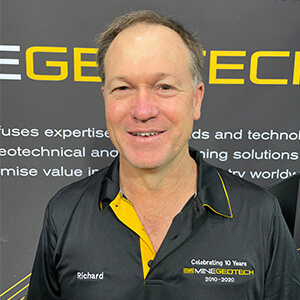 BEng (Mining) (Hons)
MEngSc (Mining Geomechanics)
MAusIMM(CP)
Richard graduated from Camborne School of Mines in 1993 with an honours degree in Mining Engineering. Subsequently he has undertaken a Masters in Geomechanics at the Western Australian School of Mines in Kalgoorlie.
Richard has more than 25 years experience in mining in Zimbabwe and Australia in both underground hard rock mining and small to medium sized open pits. Other recent consulting experience includes work in Finland and Argentina.
Underground mining methods are mainly sub level open stoping and steep narrow vein stoping with some experience in sub level caving. Richard's main experience is in deep high stress complex seismically active mines, squeezing ground conditions and narrow vein mining. Technical capabilities include:
Seismicity. The design and maintenance of systems, interpretation and analysis for a deep high stress operation with large damaging events. Investigation of large seismic events and rock falls with high injury potential.  Software usage includes IMS packages JMTS and JDi.
Rock mass damage mapping and interpretation. Rock mass characterisation including data collection, core logging, line mapping and photogrammetry; data analysis – including Q system and RMR systems to in house modified systems.
Support design. Experience with a number of different design calculators, design of both static systems and dynamic systems. Involved with the development and implementation of the Garford Dynamic yielding bolt.
Stope design. Use of the Modified Mathews Graph for initial stope design to in house methods that utilise actual data including back analysis mythologies.
Modelling. Rocscience packages, GEM4D, Strata 4 and Map3D modelling experience and experience with Voxler to analysis Abacus modelling results.
Feasibility studies and projects. Experience with prefeasibility and feasibility studies for underground operations.  Significant involvement with conducting and managing projects that include new technologies and efficiency improvement systems.
Backfill design and management of rock fill systems, cemented rock fill and paste fill methods.
Pilar design, including crown pillar, sill pillar and in-stope pillar assessments.
Raisebore analysis.
Writing of GCMP's and preparations for regulatory audits.
Richard has open pit experience in slope design and monitoring systems. He also has experience with prefeasibility and feasibility studies for open pits. His open pit software skills include the Rocscience suite and Surpac.