We are committed to investing in the education of future Engineers, and regularly contribute to The Smith Family and The University of Queensland, amongst other institutions.
Financial disadvantage can hinder a child's access to education, affecting their ability to attend school with the correct uniforms, supplies and even lunches. This does not fare well in the long run, with many children from low socio-economic backgrounds falling behind in primary and high school, leading to low probability of university entry. The Smith Family's Learning for Life programs support children and young people to participate more fully in their education by providing innovative, evidence based programs and emotional, practical and financial support throughout their schooling and education.
MineGeoTech has sponsored this program since 2011, viewing it as a lead in to our second major sponsorship commitment at the University of Queensland.
The UQ Young Achievers Program

was launched in 2009 to assist students from low-income backgrounds to access tertiary education. The students are from state schools, and often rural Queensland, where they will be the first in their family to attend tertiary education. So far over 370 Young Achievers have been welcomed to the program. MineGeoTech director John Player is a graduate of the University of Queensland, and MineGeoTech continues to patronise the program.
MineGeoTech's sponsorship of the University of Queensland was further extended in 2018, with the MineGeoTech Scholarship within the Aspire Scholarship Scheme. The MineGeoTech Scholarship provides commencing students who have experienced financial hardship with financial support to assist them with their transition to tertiary study, and is for students in engineering, science, technology and mathematics disciplines from remote and very remote areas.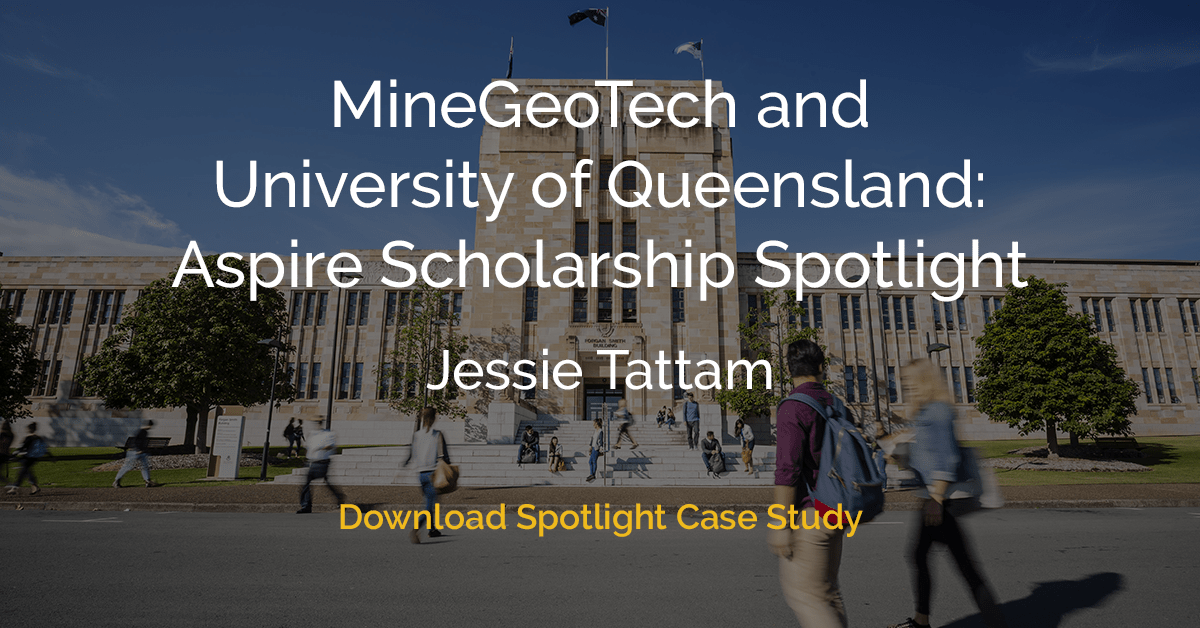 The West Australian Ground Control Group (WAGCG) acts as a network point and technical reference centre for geotechnical engineers at all stages of their career. MGT believes the mentoring of engineers is a key requirement for growth of the profession, and the industry at large, as it capitalises on the investment in the prior learning base. The mentoring offered by the WAGCG includes technical, peer and personal.
In addition to the mining game competitions which promote a unique of set of skills and comradeship development amongst the participants; travel for engineers nationally and internationally provides the opportunity to visit mining operations of a different scale, method, commodity or technology to what they are familiar with in Australia. Visiting, inspecting and learning about these differences, from their colleagues in the mining community, in an area away from their own, fosters the growth and transmission of ideas throughout the industry. For more information about the WASM Wallabies, please click on this link: WASM Wallabies.