Anyone operating in the resources sector knows that the Western Australian Government's new Work Health and Safety (WHS) laws has now come into effect as of the 31st of March 2022. The law will improve protections for the state's workers, including those in the mining and resources sector, and recognise modern work relationships such as subcontractors and gig economy workers, and introduces the term 'person conducting a business undertaking'. This means anyone who engages a WA worker has a duty to protect their health and safety.
How is the 'meaning of [a] principal mining hazard' defined under the new Work Health & Safety (Mines) (WHS) Regulations for Western Australia that have come into effect?
One of the key changes compared to the previous regulations is that there are now a series of listed principal mining hazards. However, it is a requirement of the mine operator to make an assessment of all hazards at the mine to determine whether there are any additional principal mining hazards. For each of these identified hazards, a specific risk assessment and mitigation strategy is required.
A principal mining hazard is any activity that can result in multiple fatalities. The key hazards for the majority of underground mines are rockfall, inrush, and fire with some mines also considering shaft access and gas. Open pit mines need to consider wall instability and flooding. Schedule 19 of the Regulations provides a comprehensive of matters to be considered for each of the listed principal mining hazards.
The previous Regulations and guidelines are still considered to be a good source of background information from the Department of Mines, Industry Regulation and Safety (DMIRS). It is also important to note that these Regulations constitute the foundation for the transition period for organisations within the resources sector to comply with the new WHS Law Regulations.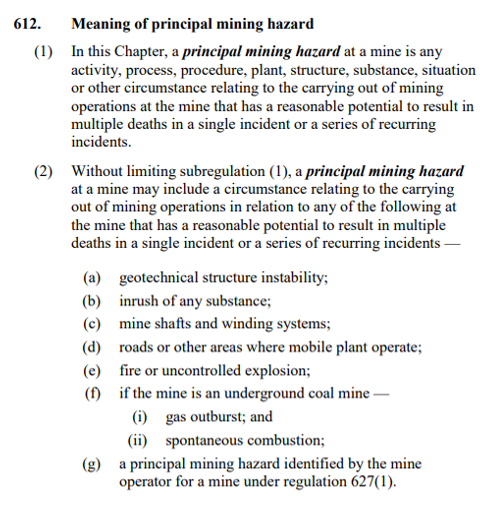 Our engineers incorporate The MGT Way in everything they do, which includes staying on top of ongoing industry and legislature changes and how these may impact your project. To see how The MGT Way can add value to your project,
contact us >
The MGT Way: Engineering advice grounded in rigorous data analysis, enabling robust design.
The information provided in this article is of a general nature only and is based on MineGeoTech's interpretation of laws existing at the time and should not be relied upon in place of appropriate professional advice. Those laws may change from time to time. Although every effort has been made to verify the accuracy of the information contained in this article, MineGeoTech, its officers, employees and agents disclaim all liability for any error, inaccuracy in, or omission from the information contained in this article or any loss or damage suffered by any person directly or indirectly through relying on this information.