Hopefully, everyone operating in the resources sector knows that the Western Australian Government's new Work Health and Safety (WHS) laws have now come into effect as of the 31st of March 2022. The law will improve protections for the state's workers, including those in the mining and resources sector, and will recognise modern work relationships such as subcontractors and gig economy workers, and introduces the term 'person conducting a business undertaking'. This means anyone who engages a WA worker has a duty to protect their health and safety.
What is included in 'Geotechnical Structures' in the new Work Health & Safety (Mines) (WHS) Regulations for Western Australia?
Geotechnical structures can be:
generally minor geotechnical engineering input, such as dumped material i.e. waste dumps, ore stock piles,
civil based in usage i.e. embankments, foundations, trenches, tailings storage facilities, or
highly engineered excavations i.e. portals, tunnels, stopes, and open pits.
The regulation (631B) stipulates that 'a mine operator […] must manage risks to health and safety associated with the instability or failure of geotechnical structures' and that is why geotechnical structure instability is listed as one of the principal mining hazards.
Mine operators must ensure they have competent supervisors, operators, planners and designers working on the excavation and formation of these structures. Drawing on our expertise and The MGT Way, MineGeoTech can provide competent designers for highly engineered excavations.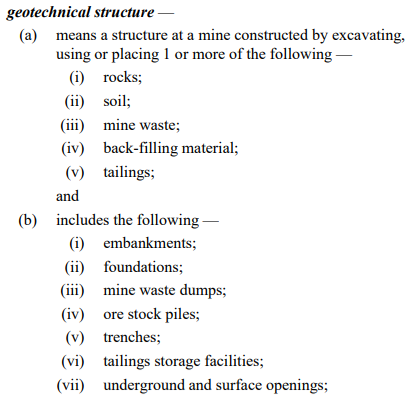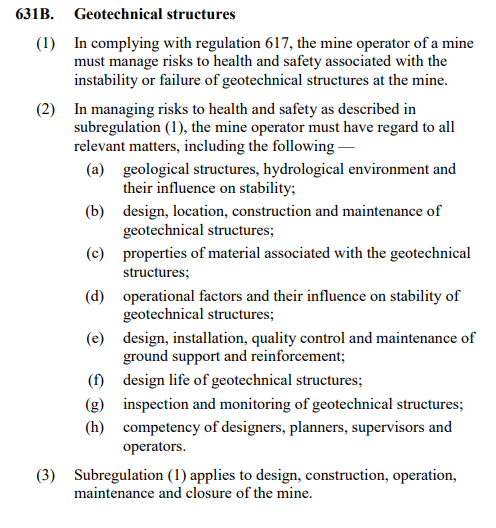 Our engineers incorporate The MGT Way in everything they do, which includes staying on top of ongoing industry and legislature changes and how these may impact your project. To see how The MGT Way can add value to your project,
contact us >
The MGT Way: Engineering advice grounded in rigorous data analysis, enabling robust design.
The information provided in this article is of a general nature only and is based on MineGeoTech's interpretation of laws existing at the time and should not be relied upon in place of appropriate professional advice. Those laws may change from time to time. Although every effort has been made to verify the accuracy of the information contained in this article, MineGeoTech, its officers, employees and agents disclaim all liability for any error, inaccuracy in, or omission from the information contained in this article or any loss or damage suffered by any person directly or indirectly through relying on this information.