Hopefully, everyone operating in the resources sector knows that the Western Australian Government's new Work Health and Safety (WHS) laws have now come into effect as of the 31st of March 2022. The law will improve protections for the state's workers, including those in the mining and resources sector, and will recognise modern work relationships such as subcontractors and gig economy workers, and introduces the term 'person conducting a business undertaking'. This means anyone who engages a WA worker has a duty to protect their health and safety.
If you want to achieve a first-class mine manager's ticket, you must be aware of the requirements outlined in the new WA Work Health & Safety Laws.
One major change we have noted is that the Part 1.1 Section 5 Terms Used is greatly expanded under the new regulations. These specifically describe what is a 'mine' (under Part 1.1 5A and 5B). The previous regulations did not provide the same level of detail in describing what constitutes a mine. Mine types are then sub-divided as being 'coal' or 'non-coal'. Mine types were previously sub-divided as 'coal' and 'other'.
Apart from the change to terminology, the regulations to become ticketed are broadly similar to the previous regulations with the following exceptions:
3 months of managing ground stability, whereas prior it was a component within the required 6 months of underground time
6 months in mine ventilation, mine planning or mine emergency management, which is a new requirement
Complete an approved WHS risk management unit.
This last requirement is also retrospective with current ticketed mine managers having 3 years to complete their WHS risk management unit to maintain certification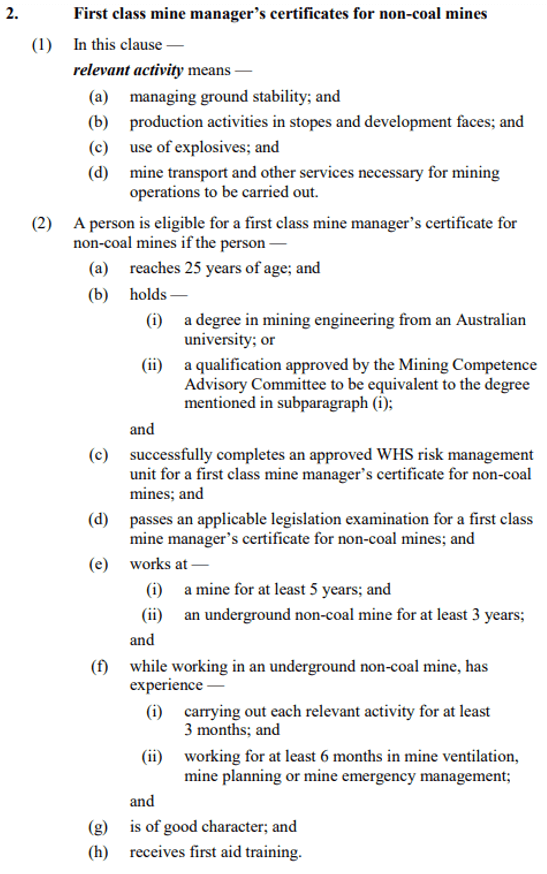 Our engineers incorporate The MGT Way in everything they do, which includes staying on top of ongoing industry and legislature changes and how these may impact your project. To see how The MGT Way can add value to your project,
contact us >
The MGT Way: Engineering advice grounded in rigorous data analysis, enabling robust design.
The information provided in this article is of a general nature only and is based on MineGeoTech's interpretation of laws existing at the time and should not be relied upon in place of appropriate professional advice. Those laws may change from time to time. Although every effort has been made to verify the accuracy of the information contained in this article, MineGeoTech, its officers, employees and agents disclaim all liability for any error, inaccuracy in, or omission from the information contained in this article or any loss or damage suffered by any person directly or indirectly through relying on this information.